LOS ANGELES, California (CNN) -- Patrick Swayze, whose hunky good looks and sympathetic performances in such films as "Dirty Dancing" and "Ghost" made him a romantic idol to millions, died Monday. He was 57.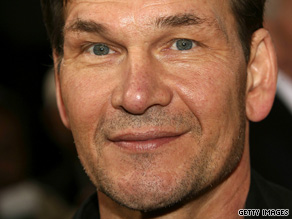 Patrick Swayze's doctor said in March 2008 that Swayze was suffering from pancreatic cancer.
Swayze died of pancreatic cancer, his publicist, Annett Wolf, told CNN.
"Patrick Swayze passed away peacefully today with family at his side after facing the challenges of his illness for the last 20 months," Wolf said in a statement Monday.
Swayze's doctor, Dr. George Fisher, revealed in early March 2008 that Swayze was fighting the disease.
RIP Patrick Swayze!! I really love this man from the moment I watch him in Dirty Dancing!! A brilliant actor he was, he will be dearly missed...
fini